Wow, it's been a LONG time. Whoops.
Over Christmas we did some chatting and planning verbally, but with the holidays everything, nothing was secured. However, we're moving forward quickly now that we're officially into the year of our wedding (ooh ,that's weird to say).
We're honing in on our rentals, figuring out exactly what the ladies are going to be wearing, and most excitingly, making our registries!
We've decided on three things. One, we're indicating our interest in remodeling our kitchen, and our desire to patronize
Jerry's
(a local large hardware store). Two, we've registered at Sears for a few appliance type things (most specifically a serger, they were the only wedding registry type place that had them!)
And finally, we've settled on Macy's. Part of me really didn't want to choose them. EVERYONE registers at Macy's . It's so cliche, and so... traditional. I wanted to register at
Down to Earth
, a local home store, or some where like JC Penny, a more ... I don't know... every man type store. I grew up shopping at Penny's, it's familiar, I like it! But after checking around and looking at our options Macy's just really made it hard to say no.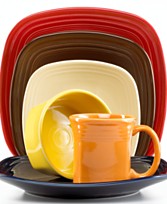 The
Fiesta ware
was a big selling point too! Yes, that's right we're registering for Fiesta dishes. I had sort of avoided that option. My mother has Fiesta ware, and I felt that if I chose them too it would be like I was copying her, or only doing it because she did it. But it was Luke's idea, so I LOVE it.
Anyways, we haven't actually started our registry yet, because they have an event coming up which actually sounds like a ton of fun.
They're doing a
'Sip & Scan'
at which they are going to have drinks, hors d'oeuvres, vendors, and other fun stuff. Plus, we get to walk around the store shopping for stuff that we don't have to pay for, always fun. They're going to be doing free point and shoot engagement shots, and more. If we do this, we are also entered in a drawing for gift card. Outside of the event, simply registering at Macy's has a lot more incentives, 10% off everything for 90 days after the wedding, plus we earn store cred at a rate of 5% the value of gifts purchased. Penny's had nothing to offer. So, I guess what i'm saying, is I understand why everyone registers as Macy's!